How do I become a Veterinary Nurse? Our latest recruit....

"Your nurses are so caring...", "You have wonderful staff here, always smiling...", " It is refreshing to see customer care at its best, the girls are amazing.". These are some of the quotes put on to the review pages of our Website and Facebook.
Of course most of the comments are made at the time of contact in the surgery when people are grateful for the help provided. It also provokes the most asked question of all and that is "...where do you get your staff from they are all lovely!"
Most of our nurses just walk in the door with their CV neatly and comprehensively written with clear contact details; address, telephone numbers, email. They usually enclose a letter of introduction and why they have contacted us. There will be the usual work experiences and a summary of achievements and hobbies. The grammer may not always be perfect, the spellings are usually spot on.
We read every one of them and will invite them for an interview if we have a vacancy or post to fill. Sometimes the person walking in has made such an impression that they are invited to come out back and see us (warts and all) in action. Sometimes we have even created positions within the surgery to accomodate such outstanding individuals.
Last year we had two such people walk in off the street and boy they were good. No they were more than good they were exceptional. Let me introduce you to Laura May our latest trainee Veterinary Nurse.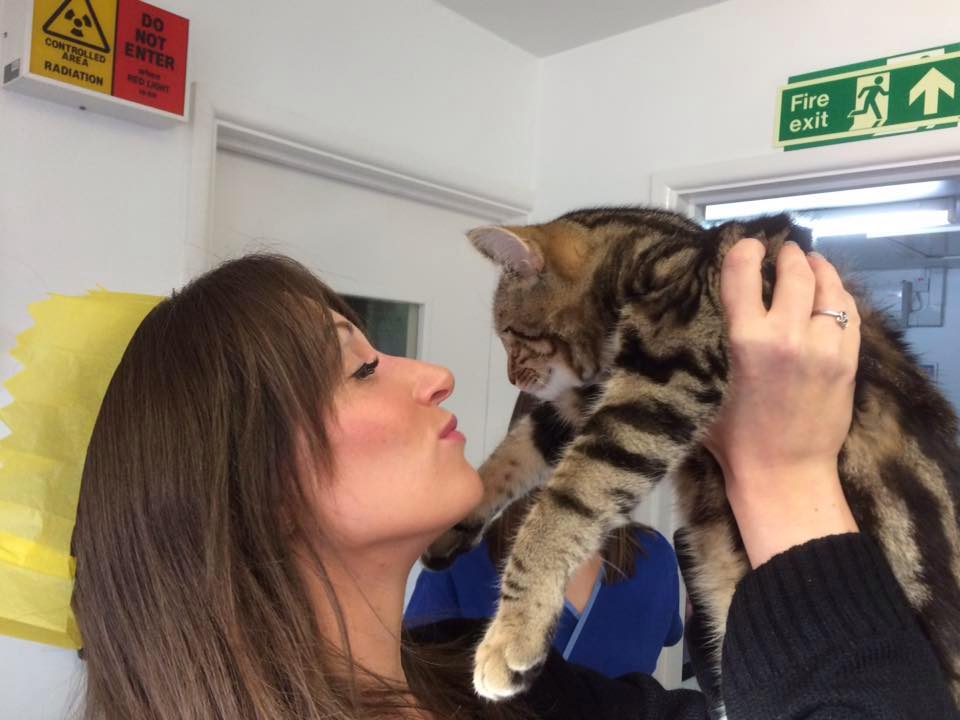 Firstly let me explain that Heathside Veterinary Surgery is a Registered Veterinary Nurse Training Centre. Heathside has always been a training centre from its conception seventeen years ago and to date we have a 100% pass rate. The Principal Jeremy Giles MRCVS has always believed in giving something back to the profession; if he wanted well trained nurses then the best way forwards was to do inhouse training with day release to Sparshalt College, leading to the highly regarded and internationally recognised Qualified Veterinary Nurse certificate.
Back to Laura. The first time I met Laura I was in the office when she was being shown round the practice. She had dressed smartly, her makeup was natural but her strength was her winning smile. She was friendly without being OTT, she spoke audibly and asked many questions. In short she was interested in us and that was obvious. I knew we could accomodate her and Laura was determined to get into a veterinary surgery.
Laura wasn't fresh out of college, in fact she had a great career working as a Beauty Therapist. First working for Chanel and then on cruise ships as a make-up artist. She was good...I've seen the photos. But a career with animals was Laura's ambition and after ten years in beauty Laura decided to persue her dream.
As Laura was about to find out it wasn't easy to find a position in a surgery let alone a position as a trainee Veterinary Nurse. Heathside had its full quota of nurses and trainee nurses but as we all took to Laura she was offerred an administrators post and so Laura started at the practice last April. Answering phones, filing, completing insurance forms; Laura did everything with a smile and uncomplainingly. A real team player; eager to help anyone out.
Realising her qualifications to become a Veterinary Nurse were incomplete, Laura enrolled on night classes to make up for the shortfall should an opening come available. Taking two nights out each week to go to college, working hard during her working day Laura was well on her way to proving that she had what it takes to become a Veterinary Nurse at Heathside Veterinary Surgery.
When our most dynamic trainee nurse Bianca qualified in the summer of 2015 Laura was called in to the office. She came out beaming realising that with Bianca qualifying that meant a post for trainee was vacant and because of her hard work and determination it was hers for the taking. We were all so pleased for Laura as she fitted right in and the dream she always had became a reality.
Lauras blue uniform arrived and you would have thought she had won the lottery such was her enthusiasm. Not flattering, stark blue...but a statement that Laura was to become a student nurse. How exciting... A New Year, a new badge, a new career and Laura working as hard as ever and enjoying herself, being a part of a respected and recognised Veterinary Team.
Laura will go to Sparshalt in September, but her training starts now under the tutalage of qualified Veterinary Nurses and Veterinary Surgeons. Oh and did I mention the hours of cleaning? Endless scrubbing of floors, kennels, walls, handles, instruments daily dusting of work surfaces, shelves etc, Cleaning up after vets, nurses and animals. Ending the day exhausted, feet throbbing, head spinning with all the things you have learnt that day, barely able to drag yourself into the shower for fatigue...knowing that tomorrow it begins again. It takes a certain someone to be able to deal with the above and more. Demands of stressed Surgeons, demands of clients, demands of ones self because you want to do your best. The highs of seeing pets get better the lows of seeing them depart across the rainbow bridge...it takes a special person to do all this.
So when I am asked where do we find our lovely staff, I feel pride in the knowledge that the majority have found us.